How Do I Pay Online for Charges on My Account?
Paying lost, replacement, and other charges online
A summary of your charges owed will display at the bottom of the Account Summary tab of your account.
You can pay all or part of these charges online.
To pay all charges, click Pay All Charges on the right of the screen. To pick and choose charges to pay, check/uncheck charges appropriately and then click Pay Selected Fines.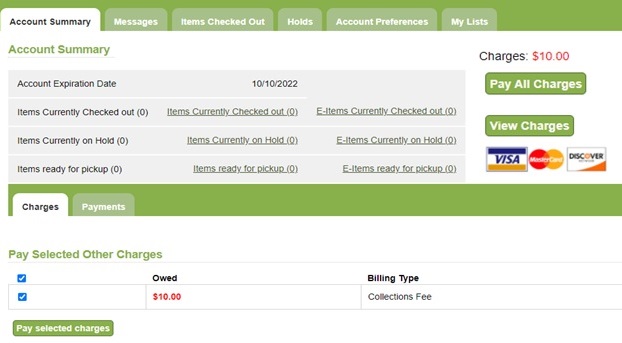 On the next page, you will be asked to fill out Billing Information and Credit Card Information.
The Billing Information section will autofill with data from your account.
Important: The Billing Information section must match the name and address on file with your credit card. The information can be updated on this screen if necessary. Note that this will only affect the current transaction. Updating your name/address here will not update the information on your account.
Visa, MasterCard, and Discover are all acceptable forms of payment.
When you are ready to submit your payment, click Next.
Notes: Payments less than $1.01 will not be accepted by our credit processor. Smaller amounts can be paid at the library.
Online payments are non-refundable. Patrons should make every effort to find and return lost items prior to payment.
Keep in mind that you won't be able to check out or renew material until you have:
 No lost items on your account.
 Owe less than $15.00 in fines/charges.
---